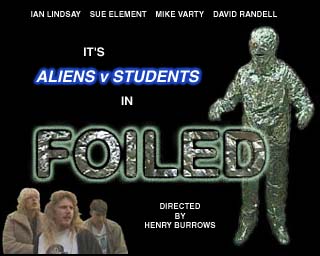 "Foiled" is a feature-length movie we made in our spare time between 1995 and 2000 (yes, almost 5 years!) featuring students, aliens, bizarre dream sequences, and lots of foil.

In these pages, you'll read how we struggled to bring it to the screen in our online journal, from the pre-production process right through to the premiere in London's West End. You'll also learn more than you could ever want to know about the characters in the movie, and the actors who play them.

You can also download the trailer and interactively explore the student house where the film takes place.