12 Facts You Never Knew About David
He comes from Derry in Northern Ireland, a city apparently famous for its walls.
He made his acting debut at the age of 5 when he played Joseph in a school nativity play. The highlight of this experience came when he had to kiss Mary.
One of his most used catchphrases is "D'you know what I mean".
His favourite meal is roast chicken with potatoes and vegetables, and his favourite drink is Guinness.
He has almost died twice.
His uncle used to be the head cameraman for the BBC.
He likes any movies that are thought-provoking, controversial or different. He doesn't like to be too specific, but his favourite bands include Mega City Four, Spiritualized and Carter.
At the age of 7 he rode his bicycle into a pond and was attacked by two swans called George and Mildred.
He used to eat dog food from his parents' Post Office in Northern Ireland.
He doesn't like Oasis.
At the age of 2 he used to say "George, you're a lying bugger" whenever a certain family friend was in the house.
His other interests include gigs, cycling and drinking beer.
Dave was well known for keeping the other cast and crew members entertained behind the scenes between (and occasionally during) takes. To hear some of his best moments, check out this page.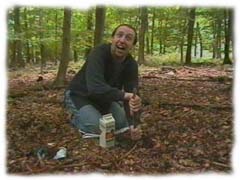 Dave goes mad in some woods