Helen is perhaps the most normal of the four students who share a house together. Currently in the second year of a psychology degree, she tends to concentrate on work when it has to be done, and fun when it doesn't. She doesn't believe in aliens, comics, B-movies or things that go bump in the night. She has no unusual hobbies, in fact the only strange thing about her is her annoying habit...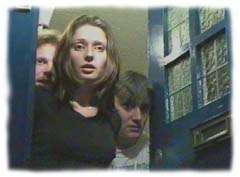 Helen and others stare on in shock
at the events unfolding outside
She has a bizarre compulsion to turn things off, which mainly happens when she's in "revision" mode before an exam. If she's in a room with a television switched on, she feels an irresistable urge to walk over and turn it off. Similarly with radios, CD players, telephone answering machines, computers and other such electrical devices. She's never gone so far as to go around turning off all the lights in the house, but there was a time before some particularly stressful exams when she could never have a shower because as soon as the water started coming out she'd turn off the taps.
Having said all that, she's very friendly and easy to get on with, she has no complaints about her house-mates even though they believe in things she doesn't. Although she treats fortune-telling as just a bit of fun, she has recently taken an interest in Laura's obsession and enjoys helping Laura out with her predictions. She's quite level-headed and it takes a lot to disturb her. Of all of the students, she's the one most likely to take control when an event like the one about to hit them arrives...
...and she is the one who ordered the pizza....