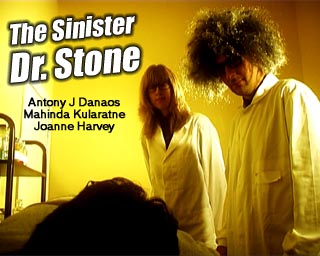 The Sinister Dr Stone is an eight-minute film we shot in October 2005 and was completed in April 2006. It's about a student (played by Mahinda Kularatne) who tries to earn some extra cash by volunteering himself for some unorthodox medical experiments performed by a very unusual doctor (Antony Danaos) and his silent assistant (Joanna Harvey)...

Unusually for a Foiled Productions film, this isn't a typical light-hearted film. It's quite... sinister...

The film also features cameo appearances from Howell Parry, Torkjel Matzow and Julie O'Brien. It was filmed entirely in Manchester at Howell's flat, where the World Premiere took place on the 22nd of April 2006.

Watch the film now here.