Undercover 70s Cops was shot over three days in 2002:-

Sunday, 12th May 2002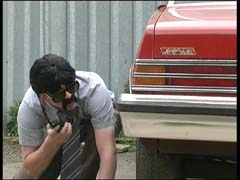 Today we shot all of the "drug dealer" chase scenes around Clapham in London.
We had 4 people for the shoot - Shaun & Erik played the part of cops, and Ian & Julien were the criminals. Ian was the drug dealer, and Julien his customer.
We improvised & shot one complete scene, featuring Ian & Julien doing an exchange of drugs, watched by the cops, then being chased around an industrial estate, before being apprehended on a footbridge.
The area we filmed in had a steady stream of highly amused people wandering through it, which meant we had to wait between each shot for the location to clear. But just to prove how good the costumes were, when a couple were walking past us, the girl said "looks like that Beastie Boys video"...!!! We were like "yeah...!"
We later discovered a connection between today's filming and the film "A Fish Called Wanda". To read about it, click on the link here.

>> "A Fish Called Wanda" Connection <<.
---
Sunday, 26th May 2002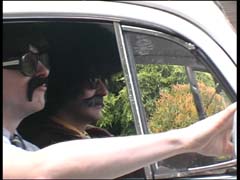 We shot a few scenes at Shaun's house - first of Dave Corrie tied to a chair in a shed, with a mad blonde-wigged Julien constructing a bomb at a nearby workbench.

Then we had the crazy cops Erik & Shaun hacking down the wooden door with an axe (kindly lent to us by Steve - why does he have a massive axe though??) before a short chase involving Shaun & Julien.

We also had the two cops eating doughnuts in their car (grinning madly and grooving to the funky beat on the radio), then some miscellaneous driving shots around Alton's industrial estates, another running sequence involving an alleyway and an electrical substation, then a shot of Shaun hiding behind some barrels.
---
Sunday, 23rd June 2002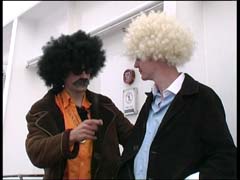 Today's filming took place in & around Calais, and on the ferry between Calais & Dover.

The first scenes we shot were on a beach near the refugee centre at Sangatte. There were loads of wooden poles along the beach, which we got into some of the shots, and some cool sandy dunes to run through. However, we spent the rest of the day finding sand everywhere!!!

Next we headed into Calais, and after some shopping and a cafe break, we grabbed another couple of shots in a deserted location on the docks, then headed back to the ferry.

Our three cops stayed totally in character throughout the journey back to England - very popular with many of the passengers!! Indeed, lots grabbed photos, and some posed with them on the outside deck.
---
>> Back To Main Page <<